Hey! This is what you've been looking for. You can now actually watch video(s) on
YouTube
without it buffering. Slow internet discourages the use of YouTube, I guess you know that. This reminded me of when I was stuck to some VERY SLOW internet back in 2011. Then I was conditioned and brainwashed by the service, I never thought I could watch YouTube videos online, until I discovered this trick which helped me a lot. But right now in time I don't use the trick anymore, not because it's not good but because I don't like too much app running on my PC plus my internet is quite good so I really don't use it. But mind you, I go back to it when the worst has fallen. Another reason that might make YouTube videos slow down is when your
PC is slow
, and this probably occur when you're running too much application at a time. YouTube videos might also be slowed down or freeze (not buffer this time) due to low Random Access Memory (RAM). The solution to that is the increase in RAM, buy RAM and insert to your system - 1 gigabyte should do but it depends on things you do with your computer. Like said earlier, I don't use the trick that much but I know well that there are people around the world with slow internet connection and even if I don't use this trick a lot as i used to, it is important that I share it cos I know it works well and helps people with low internet connection a lot.

How to Get this Working
First, download and install Real Player to your computer.
Visit Youtube @ m.youtube.com - This will enable you to switch to mobile view while on PC.
Search and click on the video you want to watch. You should be prompted to open it with Real Player.
Select Real player and the video starts playing.
Note;
If you have already opened the video
- Look to the address bar, change
"
www
"
to
m
on the address
;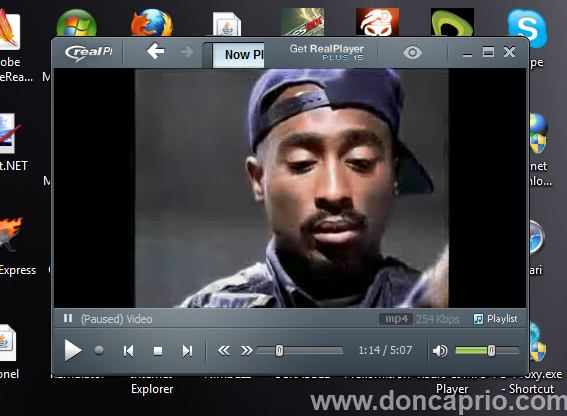 It plays on an external (real player) window. Video is compressed and the quality may not be the same as the one on PC but you can be sure it's going to play a lot faster than your browser. I used this trick in 2011 and
this post was culled from doncaprio.com
This tip was experimented on Firefox and may (just MAY) not work on Chrome. But if it does work for you on Chrome or any other browser do well to share with us using the comments.
Finale
Hope this helps and hope you got informed, Enjoy! Subscribe to our RSS feed using the form below. Kindly follow me on
Twitter
(@worldwebsurfers) and on
Google+
will appreciate that. Also share your thoughts with us using the comments. Cheers! and stay happy. Regards
WorldWebSurfers.com
That should be all. With this medium, we want to say
thank you
for your continued liking and sharing. If you haven't liked this post yet, you may do that by hitting the buttons just above.
If you are a blogger and you appreciate the hard work, whether or not you copied this post, we implore you to kindly
link back to this post here
, you may do it anyhow you can. We consider that a great contribution.
Looking for something else? Search site here: